About Earthstone
Earthstone International is a US based manufacturer of foamed glass products. We recover glass from US landfill sites and recycle it to create environmentally responsible cleaning and sanding products that work. Earthstone was founded in 1995 by Gay Dillingham and Andrew Ungerleider to create an eco-friendly alternative to pumice without having to use the conventional process of strip-mining in the mountains in New Mexico and elsewhere.
Over the years, Earthstone has evolved into a professionally managed company that has developed, manufactured and supplied its customers with products that can be used for barbecue grill, kitchen, and bathroom cleaning as well as sanding. Earthstone sells to both the residential and commercial markets. We have a strong commitment to the natural environment and design all products to meet strict environmental and safety requirements. This commitment has earned us the Green America seal of approval and Green Clean Institute certification. In addition, we make all of our products in the USA at our plant in Santa Fe, New Mexico.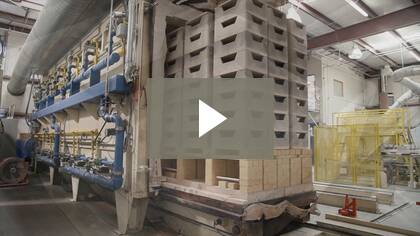 How our products are made:
Recycled glass is taken from landfills.
Did you know that most municipalities in the United States don't truly recycle glass? The process to melt glass and form it into reusable material can be incredibly costly, so the glass that is turned in for recycling is mainly used in public art and for other similar projects. The rest is usually crushed and added into landfills anyway. Earthstone buys this crushed recycled glass to save it from being added to landfills.
Glass flour is made & mixed.
Earthstone grinds the recycled glass into a fine powder that feels like baking flour. Next, we mix it with a proprietary foaming agent that helps the glass flour rise like bread when it is baked.
Foamed glass is baked, cooled, & cut.
The glass flour is baked in our specialized kiln in Santa Fe, New Mexico at temperatures as high as 1600 °F. The baking and cooling process takes two full days, and then we cut and wrap the individual stones listed for sale on our site. Industrial products are made in a similar fashion.
Mission & Vision
Earthstone's mission is to reduce the need for strip-mined minerals by producing high quality, effective, and environmentally-friendly alternative products for a variety of commercial and household uses.
Earthstone's vision is to make the largest positive environmental impact possible by becoming a leading developer and producer of products that use recycled glass as innovative solutions to the world's problems.
Environmental Certifications
| | |
| --- | --- |
| | In 2011, Earthstone was recognized as a Green Clean Certified company by the Green Clean Institute. The GCI focuses on certifying companies that demonstrate the ability to provide effective cleaning that is also good for the health of your home and the natural environment. Learn more on the Green Clean Institute website. |
| | Earthstone International is a Green America approved business. Green America empowers individuals to make purchasing and investing choices that promote social justice and environmental sustainability. To be an approved business means that Earthstone meets Green America's criteria for social, economic, and environmental sustainability and corporate responsibility. Learn more on the Green America website. |
Download our Safety Data Sheet (SDS)
Earthstone's patented foamed glass product can be made to meet specifications for just about any use. Our specialized engineers are able to work with your company to determine the optimal variables to meet your project's needs. To learn more or for quotes and information, contact engineering@earthstoneinternational.com.